Relationships and dialogue
Relationships and dialogue is about creating long-term and mutually beneficial partnerships which are built on trust and openness.
Stakeholder dialogue
PFA represents an essential part of the Danish pension system and is one of the largest investors in Denmark. PFA is committed to being an active participant in Danish society, and we are in dialogue with customers, organisations, NGOs and other stakeholders to create the best possible conditions for pension savings in Denmark in general. At the same time, PFA is involved as an active participant in finding solutions to shared challenges in society.
An open dialogue is an important part of our efforts, and we contribute through the development of market surveys, analyses, comments and contributions to debates in order to illuminate conditions for savings, insurance, preventive measures and health. PFA's dialogue with stakeholders focuses on a long-term and mutual collaboration based on trust and openness.
PFA has taken a number of specific steps to create dialogue: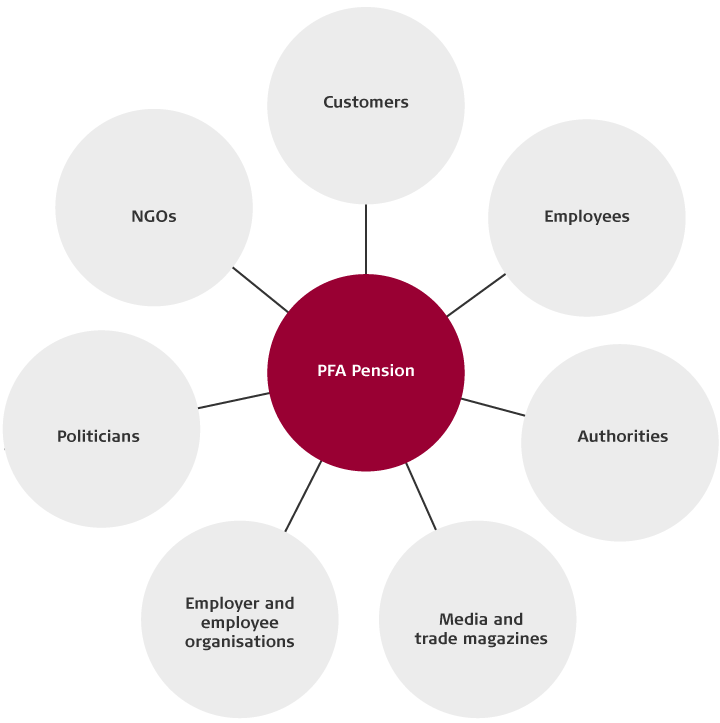 Customers
Considerable communication efforts have been initiated to promote the understanding and importance of pensions and health plans and to focus on the value of preventive measures
We use experience and lessons from dialogue with customers and complaints to the Customer Representative and Complaints Department respectively
We create targeted events and debates regarding current topics for members of the Customer Board and we use the experience to improve PFA's services
Several times a year, customer satisfaction is measured in order to improve the customer experience
We aim to create value for customers in our day-to-day interaction with more than 1,000 customers
Employees
Annual employee satisfaction survey with subsequent compulsory improvement process
Development plan for all managers and the majority of employees
Employee meetings and feedback to management regarding PFA's strategy and results
Employee representatives on relevant internal committees and on the Board of Directors
Employee and employer organisations
Member of Insurance & Pension Denmark (IPD). We participate actively in board assignments and relevant working groups
Member of Finance Denmark and participates in relevant working groups etc.
Collaborations and partnerships
Member of Dansif. We are active in working groups, and work to disseminate the principles of responsible investments
Member of the SRI task force under Insurance & Pension Denmark (IPD)
Member of the CSR network under the Danish Chamber of Commerce
Member of BlackRock Retirement Institute Advisory Council
Initiator of the Think Tank – The New 3rd Age
Member of Nordic Engagement Cooperation
Participates in the project 'Consider Copenhagen'
Member of 'Velkommen Hjem'
Member of the international network CDP (Carbon Disclosure Project)
Member of the international network IIGCC (Institutional Investor Group on Climate Change)
Member of PRI (Principles of responsible Investment)
Member of the UN Global Compact
Media and professional journals
We give high priority to calls from the media and we are the most talked-about player in the pension sector
We submit contributions to debates in order to participate positively to the understanding of pension and related topics
We aim to reply to inquiries and questionnaires from organisations and academia
We regularly carry out population surveys on pension and health-related topics
NGOs and popular organisations
We meet with NGOs to gather knowledge and create an accumulated and detailed summary of society's dilemmas
We engage in enquiries and dialogue to expand knowledge on specific areas of value to PFA
Authorities
PFA shares knowledge and cooperates with authorities and the political system regarding, among other things:
Experiences with active handling of claims, preventive measures etc.
Political frameworks for pension savings, ethical investments and other topics within PFA's areas of interest
Development of Public Private Partnership (PPP), Eksportkreditfonden, Dansk Vækstkapital as well as other investments that are of public utility
Customer trust and complaint management
PFA's customers must have adequate opportunities to complain if they are dissatisfied with PFA's decisions or with the advice or service offered by PFA. With daily contact with more than 1,000 customers, there are situations where customers are dissatisfied. Such cases represent a source of learning.

PFA has a central Complaints Department and a Customer Representative. The Complaints & Customer Satisfaction Department is anchored in PFA's legal entity. The purpose of the Customer Representative is to experience the course of events from the customer's perspective and evaluate whether the development of the case is meaningful.
Social engagement
PFA is actively engaged in society and contributes to improvements of social conditions both in Denmark and globally. Therefore, PFA participates in a range of activities, cooperates with numerous organisations and has set up the foundation PFA Brug Livet Fonden.
PFA believes that support is most effective when done in collaboration with partners who focus on individual key issues.
PFA primarily offers support through partnerships with associations that are connected to PFA's core business. For instance within the fields of preventive measures, health-promoting initiatives and disease-fighting efforts.
In connection with other support activities, there must be a connection between PFA's business and the recipient of the support. Finally, we support initiatives whose objective is to inform about topics which are closely connected to life and pension.
Support can be provided in the form of:
Financial contributions
Employees carrying out voluntary work during working hours
PFA places demands on how the support is used
When PFA provides support for an organisation's work, it is important that the resources are handled with care. For this reason, we require of all support recipients that they explain in writing the association's objectives and management and how the support will be used. In addition, we also attach importance to the fact that our support is used for projects which are not dependent on PFA's contribution alone and generally work towards sustainable developments.
Questions about Corporate Responsibility?
Contact our Vice President, Communications & External Relations, Mikkel Friis-Thomsen at mft@pfa.dk.